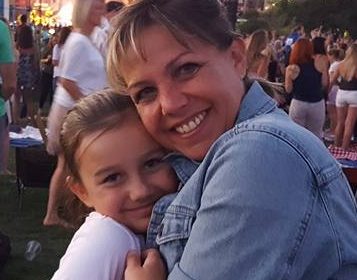 Here at Marcello's, our staff is family, and we would like everyone to know and love them as we do.  This is the first profile in a series of snapshots of some of our family members.
Kelly has been part of the Marcello's family since 2007, and Bar Manager since 2009.  In 2004, Kelly left Kansas (and a great job with the Kansas City Chiefs) to start a new life with her son Chanse.  Shortly thereafter, she met the love of her life on a job interview.  She didn't take the job, but she married her interviewer, Jason Adams!  When they married, they became a large, blended family, with Kelly's son Chanse, Jason's sons Brandon & Brody, and Kelly & Jason's daughter Caylee (now 10).
Before coming to Marcello's, Kelly was a bartender at Broken Top, but after marrying Jason and moving to Sunriver, she was looking for something closer to home.  Lucky for us, she ended up at Marcello's!  Kelly says her favorite part about working here is the Marcello's family – how tight-knit and supportive our crew is.
(That's my favorite part, too.)
How well do you know our Bar Manager?  Did you ever notice how she is always wearing long sleeves and sweaters?  Kelly is always cold.  She keeps her thermostat at home around 85 degrees, so what most of us consider comfortable is unbearably cold to her.  Kelly's dream vacation would be to go to Bora Bora.  Her favorite dish at Marcello's is the Pollo alla Romana.  Her favorite memories are mostly of all the fun New Year's Eve parties we have had here over the years.  But there is one memory that really stands out for her: "The Hobo Who Fell Asleep".  A few years ago, after we had closed for the night and locked the doors, but before all the staff had gone home, a man no one recognized wandered into the room.  No one had any idea who he was or how he got there.  He told us he must have fallen asleep, and we unlocked the door and let him leave.  We were concerned about this mystery visitor and contacted Sunriver police.  They located the man, who turned out to be a homeless drifter, and they kindly transported him to Shepherd's House in Bend.  Apparently, he wandered into the restaurant during the evening, but no one knew he was there.  He never spoke with anyone, he just went to the upstairs dining room (which was not in use that night) and fell asleep!  Perhaps the silence woke him?  Or the lights being turned off?  Who knows!
When asked what one thing Kelly wanted people to know that they might not already, she replied, "I'm a very spiritual person.  Not many people realize how important my faith is to me."
There is one more thing I think you should know…  Kelly is amazing!  No matter what challenge she may be facing (and she has had more than her share), if you walk into her bar, she will smile at you and ask you how your day is going.  She is dedicated and unbelievably hard-working – not many people could juggle making drinks for the entire restaurant while simultaneously waiting on all of the bar customers!
We are very lucky to have Kelly as part of the Marcello's family.  If you haven't already welcomed her into your family, you are missing out!